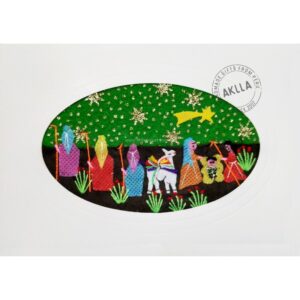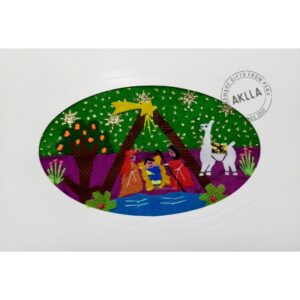 Handmade Christmas and Greeting Cards with Fabric Applications
Handmade Christmas and Greeting Cards with Fabric Applications
Beautiful handmade Christmas and Greeting cards in a variety of colors and designs.
To see each application is to enter the wonderful world of imagination and dreams. Each country scene is designed, cut, sewn and hand embroidered by experienced artisans following the ancient tradition.
There are images of Christmas scenes with the baby Jesus, the Virgin Mary, Saint Joseph, the Magi, the Star of Bethlehem, the shepherds, the manger and animals.
In others, we see the llamas with their caretakers, grazing in the fields and carrying out their daily activities.
Additional information
| | |
| --- | --- |
| Weight | 10 g |
| Dimensions | 0.3 × 18 × 14.8 cm |
| Height | 16.5 cm. / 6.49" |
| Width | 11.5 cm. / 4.53" |
| Length | 0.2 cm. / 0.078" |