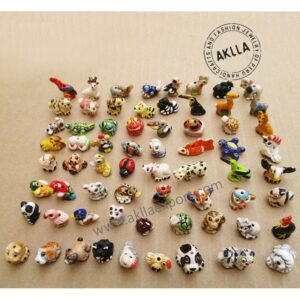 Hand-painted Ceramic Miniatures
Hand-painted Ceramic Miniatures
Beautiful miniatures hand painted ceramic animals. in a variety of shapes. We have birds, mammals, fish, batrachians and reptiles. Birds: as the condor, owls, owls, parrots, parrots, eagles, penguins, roosters and chickens, etc.
Mammals: cats, dogs of many breeds, elephants, hippos, bears and panda, rabbits, cows, sheep, zebras, llamas, hedgehogs, camels, monkeys, giraffes, donkeys, kangaroos, tigers, lions, etc.
There are also toads, frogs, snakes, crocodiles, fish of many types, seahorses, dolphins and more.
Additional information
Weight
2.20000000 g
Dimensions
2.5 × 2.5 × 2.5 cm
Length

2x2x2 cm. / 0.79 x 0.79x 0.79"
2 x 2 x1.5cm. / 0.79 x 0.79x 0.59" como promedio