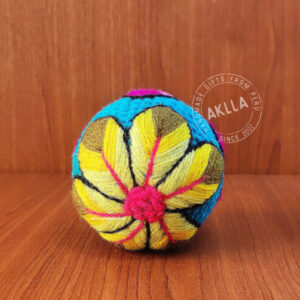 Hand Woven Embroidered Spheres. Peru Christmas Ornaments.
Diameter: 3.54″/ 9 cm. Circumference: 10.24″ /26 cm,
Peru Christmas Ornaments. Hand Woven Embroidered Spheres.
Handmade by Peruvian artisans.
Decorate your space with color and joy.
Color: multi-coloured.
Material: wool.
Peruvian Christmas ornaments.
Andean decor.
Diameter: 3.54″/ 9 cm. Circumference: 10.24″ /26 cm,
Delight in the festive spirit of the holiday season with our exquisite collection of peruvian christmas ornaments, specially designed to adorn your Christmas tree with elegance and charm. Each sphere is meticulously crocheted and adorned with intricate hand-embroidered wool, featuring an array of captivating floral designs in a rich spectrum of colors. These delicate ornaments serve as a testament to the artistry and craftsmanship of skilled artisans, bringing a touch of warmth and tradition to your cherished Christmas decorations.
As you prepare to deck the halls and trim the tree, our beautiful spheres offer a unique and enchanting way to infuse your holiday decor with a sense of personalized style and creativity. The meticulous crochet work and delicate hand-embroidery on each sphere reflect the dedication and passion that goes into creating these exquisite pieces, ensuring that they stand out as timeless treasures amidst the festive sparkle of the season.
Available in a variety of enchanting colors, our handcrafted spheres offer a versatile and vibrant addition to any Christmas tree. Whether you prefer the classic allure of rich reds and greens, the subtle charm of pastel hues, or the whimsical appeal of bold and bright shades, our collection provides a diverse range of options to suit every festive aesthetic. Let these meticulously crafted spheres become a reflection of your unique holiday spirit, adding a personal touch to your seasonal celebrations and gatherings.
Beyond their visual appeal, each 0ur peruvian christmas ornaments embodies the spirit of tradition and craftsmanship, serving as a heartfelt homage to the intricate art of crochet and embroidery. The delicate floral designs intricately woven into each sphere symbolize the beauty of nature's bounty, invoking a sense of joy and wonder reminiscent of the winter wonderland that surrounds the holiday season. Allow these handcrafted ornaments to evoke cherished memories and create new traditions, becoming a cherished part of your family's holiday celebrations for years to come.
The lightweight and durable construction of the Peru Christmas ornaments makes them a practical and long-lasting addition to your Christmas tree decoration.Crafted with the utmost attention to detail and using high-quality materials, these spheres are designed to withstand the test of time, ensuring that they remain a beloved part of your holiday decor for many joyful seasons ahead. Whether you choose to display them on your tree, hang them from your mantelpiece, or incorporate them into a festive centerpiece, these crocheted and hand-embroidered spheres promise to bring a touch of warmth and joy to your home during the most magical time of the year.
Celebrate the wonder and joy of the holiday season with our meticulously crafted spheres, each one a masterpiece of crochet and embroidery, and a symbol of the love and care that goes into creating cherished holiday memories. Embrace the festive spirit and infuse your Christmas tree with the timeless beauty of these christmas baubles crochet, allowing them to become a cherished part of your family's holiday traditions and a symbol of the joy and togetherness that define this special time of year.
Additional information
| | |
| --- | --- |
| Weight | 50 g |
| Dimensions | 9 × 9 × 10 cm |