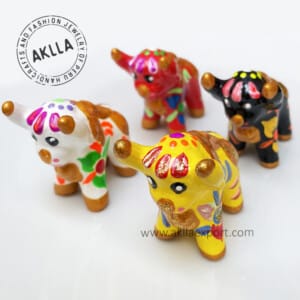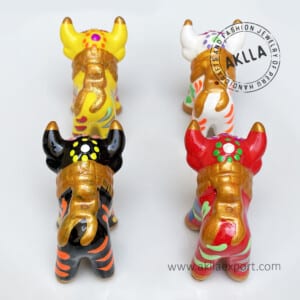 Pucara Bulls Hand Painted Clay
Pucara Bulls hand painted clay little bull  for home decor, in multiple colors available. (1.85″ x 1.25″ x 1.85″)
Clay Hand Painted Pucara Bulls Little Bull
Bull figurine hand painted clay little bull  for home decor, in multiple colors available.
Handmade in Peru.
Available colors: white, black, red, orange, yellow, pink, light blue, dark blue green and purple.
Dimensions approx. :1.85″ x 1.25″ x 1.85″
Material: clay.
It has a hole for incense.
The Peruvian Pucará Bull takes its name from its place of origin: Pucará, Puno. It is a clay figurine full of color and Andean details.
It was initially used in the marking ceremonies and the reproduction of cattle, associated with the abundance and fertility of the land and is a symbol of the Peruvian southern Andean identity.
Additional information
| | |
| --- | --- |
| Weight | 30 g |
| Dimensions | 5.8 × 4.2 × 5.8 cm |
| Width | 3.2 cm / 1.25" |
| Length | 4.7 cm / 1.85" |
| Height | 4.7 cm / 1.85" |