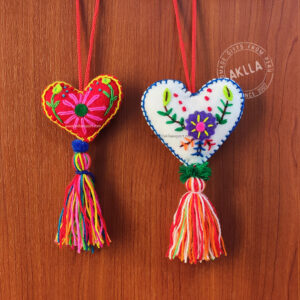 Felt Heart Ornaments with Pompom and Tassel.
Small hearts: 7x8x3 cm. Total length: 27 cm. /10.63″  Medium hearts: 9x10x4 cm.Total length: 30 cm. /11.81″
Felt Heart Ornaments with Pom pom and Tassel. Andean Decor.
Handmade by Peruvian artisans.
Decorate your space with color and joy.
Washable material.
Ideal to build your Peruvian corner.
Color: multi-coloured.
Material: felt and wool.
Christmas tree ornaments.
Small hearts: 7x8x3 cm. Total length: 27 cm. /10.63″  Medium hearts: 9x10x4 cm.Total length: 30 cm. /11.81″
Indulge in the enchanting beauty of Peruvian Andean decor with our stunning assortment of felt heart ornaments, adorned with delightful pompoms and tassels. Carefully hand-embroidered with beautiful floral designs, these hearts are more than mere decorations; they represent a tribute to the cultural richness and artistic traditions of the Andean region. Whether you wish to infuse your daily accessories with a vibrant touch or seek to infuse your living space with the essence of Peruvian allure, these distinctive pieces are an ideal choice.
Each felt heart is a testament to the commitment and expertise of skilled artisans, highlighting the reverence for traditional crafting techniques passed down through generations. Reflecting a profound connection to heritage and culture, these handcrafted treasures pay homage to the elaborate textile legacy of the region. The vivid colors and detailed embroidery pay homage to the deep-rooted textile history, underscoring each piece as a symbol of the Andean people's profound relationship with their craft and land.
These charming felt heart ornaments effortlessly harmonize with various settings and items, infusing every space they grace with a sense of warmth and character. Whether gracing your cherished handbag, backpack, or suitcase or dangling from the rearview mirror of your vehicle, these felt hearts serve as a reminder of the intricate cultural fabric that inspired their creation. Their seamless adaptability from one milieu to another makes them a versatile accessory that complements your personal style and environment, regardless of your journey's destination.
Beyond their visual appeal, these felt heart ornaments embody the spirit of distinctiveness and genuineness. Crafted meticulously by hand, each heart possesses a unique identity, ensuring that every recipient receives a one-of-a-kind masterpiece. The subtle variations in pompom and tassel hues further accentuate the individuality of each piece, infusing an element of surprise and unpredictability into every acquisition. Embrace the beauty of imperfection and celebrate the exclusivity that comes with owning a handmade piece that reflects the artisan's spirit and ingenuity.
Furthermore, the meticulous attention to detail and use of premium materials ensure that these embroidered felt hearts are not just visually appealing but also enduring and timeless. The careful selection of materials and expert craftsmanship guarantees that each heart retains its vivid colors and intricate detailing over time, transforming it into an everlasting addition to your collection of cherished possessions. Whether showcased on a hook in your abode or integrated as an ornamental accent in your day-to-day life, these felt hearts are bound to evoke joy and appreciation for the cultural heritage they embody.
Embark on a journey into the magic of Peruvian Andean decor and allow these embroidered felt hearts to become an emblem of cultural significance and artistic expression within your personal space. With their ability to evoke tradition, warmth, and creativity, these unique embellishments promise to infuse your life with an enduring touch of Peruvian allure that is both captivating and timeless.
Additional information
| | |
| --- | --- |
| Weight | 25 g |
| Dimensions | 9 × 10 × 8 cm |